Presentation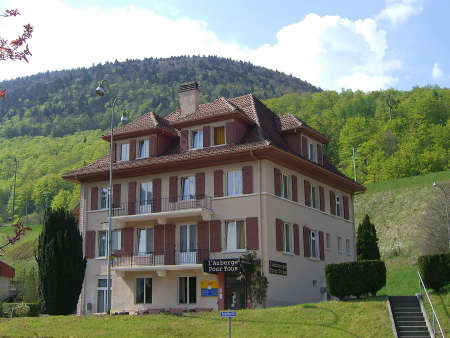 The « Auberge pour Tous » is situated in the heart of a valley dominated on one side by the « Dent-de-Vaulion » (Vaulion tooth) chain and the « Mont d'Or » (Golden Mount) on the other side. It is positioned in the most picturesque part of the "Jura vaudois" region at an altitude of 750 m.
The « Auberge pour Tous » offers 72 beds spread over 3 floors including small cosy dormitories and bedrooms with 2 or 3 beds. There is a shower and toilet block on each floor and rooms with their own bathroom. Low priced and comfortable accommodation for groups, school trips, families and conferences. Situated by the foot path of the peaks of Jura n°5, on the route of Jura n°7 of Switzerland by bicycle, and on route Jura bike n°3 (mountain bike), the hostel is the ideal stopping place at Vallorbe for walkers and cyclists.
From the « Auberge pour Tous » you can walk to the village center in 6 minutes, and to the train station in 10 minutes.
Warm and welcoming, and situated in peaceful surroundings, the « Auberge pour Tous » is the ideal place for recreation and rest.